About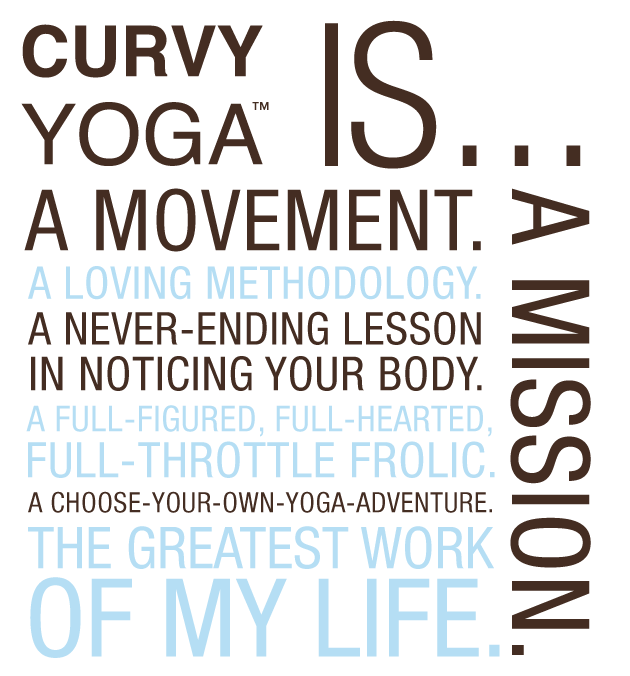 ---
HELLO AND WELCOME!
---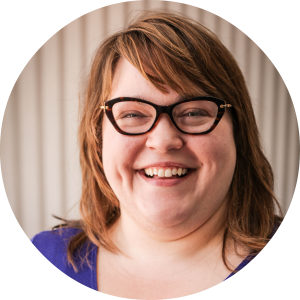 I'm Anna Guest-Jelley, founder and CEO (Curvy Executive Officer) of Curvy Yoga — a training & inspiration portal for yoga students and teachers of all shapes and sizes who want a body affirming practice that supports them in exploring what body acceptance means to them.
As a writer, teacher & lifelong champion for women's empowerment & body acceptance, I'm here to encourage people of every shape and size to grab life by the curves.
And never let go.
---
TWISTS, TURNS & MY CURVACEOUS CAREER
---
I didn't create Curvy Yoga on a whim. I've been practicing yoga since the late 90s, teaching since 2008 and training yoga teachers since early 2012. And in case you're curious, yes; I'm E-RYT500.
In a previous life, I earned multiple Master's degrees (and one slice of a PhD) . . . dusted chalkboards & cross-examined essays as an English professor . . . ran a renowned domestic violence prevention program . . . co-managed a university women's center . . . published papers, created workshops & coordinated community programs on universal health care, reproductive rights, adult literacy, wellness & emotional resilience. Eating disorders, abuse, self-neglect & anxiety — you name it, I wrote the curriculum . . . xeroxed the worksheets . . and hung the 'Welcome' sign on the door.
My life has always been filled with beautiful women, big ideas — and bliss-sucking challenges.
I've personally struggled (to put it mildly) with the sickening pain of low self-esteem, warped body image & dizzying migraines. I've been on 65 diets. I've starved, binged, broken down & wept. I've been told I was too fat to do yoga (EXCUSE me?!). I've hunted for community — and found echoes & misunderstanding.
Yoga is the technology & foundation of my well-lived life — and well-loved body.
It's changed my world — and become my life's work. I have no doubt that all these twists and turns brought me exactly where I am meant to be.

---
HOW CURVY YOGA WAS BORN
---
As I moved through my own Yoga adventure, I realized that there was a big, gaping hole in the Yogaverse — a space where curvy women could get information on how to start a yoga practice. Safely. Serenely. At home.
And then I discovered another big, gaping hole — a space where yoga teachers could learn how to guide & instruct their curvy students. Without worrying that they were doing — or saying — something w-r-o-n-g.
I looked for support, and found misinformation, mystification — and a maddening lack of options. (Boo.)
So I created Curvy Yoga to offer tools, techniques & resources for yogis & teachers alike.
---
OFF THE MAT. INTO THE FUTURE.
---
Curvy Yoga is celebrating its sixth year of classes, courses & collaborations. Needless to say — this lovefest just keeps getting better!
Stay on the radar for more local classes, live events and oodles more!
It just keeps getting Curvier up in here. And I'm honored you're part of our community.

---
NEED MY OFFICIAL BIO?
---
Anna Guest-Jelley is founder and CEO (Curvy Executive Officer) at Curvy Yoga, a training and inspiration portal offering classes, workshops, teacher trainings, retreats, a virtual yoga studio and lots of love and support to people of every shape and size — all over the world.
Anna is a writer, teacher and lifelong champion for women's empowerment and body acceptance. Co-editor of "Yoga and Body Image: 25 Personal Stories About Beauty, Bravery & Loving Your Body" (Llewellyn), Anna has been featured online and in print at The New York Times, The Washington Post, xoJane, The Daily Love, MariaShriver.com, US News & World Report, Southern Living, Vogue Italia, Yoga International, Yoga Journal and more. Visit Curvy Yoga online at CurvyYoga.com.