Meet Curvy Yoga®
Have you always wanted to try yoga but never thought it was for you? Or are you looking for a yoga practice that not only helps you feel good in your body, but also about your body?
Curvy Yoga was born out of yeses to those questions, so if you were nodding your head along or think you might someday, welcome! You're in the right place. And I hope you'll join us (you'll get lots of free resources and practice videos when you do!).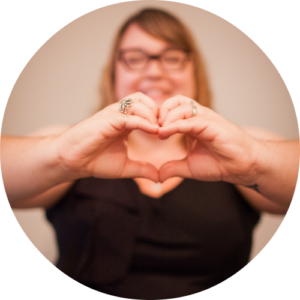 When I first started practicing yoga nearly 20 years ago, I was almost always the biggest person in the room. So when the teacher would say something like "put your belly on your thighs in this forward bend," I would think "Ummm, I don't really need to move to do that. Does anyone else?" Or when she would ask us to "notice what's happening with your baby toe in this pose," I'd think, "Huh? Do people actually know how to do that?"
Because I sure didn't.
And I know I'm not alone.
I spent most of my life in an adversarial relationship with my body, always trying to change it, never caring what it wanted or needed because I was too desperate to lose weight to be bothered or notice. Also, after years of chronic dieting (I once tallied up I've been on 65 different diets in my life!), I couldn't have noticed even if I wanted to.
I'd been way too disconnected from my body for way too long for that.
If that sounds familiar to you, I have some good news. Yoga (yes, yoga!) can help you come home to your body — no putting your leg behind your head required (unless that's your thing, but I won't personally be doing that without a trip to the hospital!).
Curvy Yoga Practice
What I've learned over the years is that yoga and body acceptance come together through practice. Together, they create an experience we call Curvy Yoga Practice — a highly individualized process for you to bring both yoga and body acceptance into your life in regular, doable ways.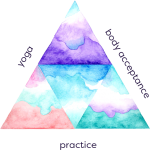 Yoga has its ooohhhh and aaahhh moments with some of its poses, and that can definitely be fun. But the deeper power of the practice comes from how it asks you to be in an ongoing, evolving conversation with your body on a regular basis (and in the meantime feel less stressed and improve mobility!).
Curvy Yoga Practice starts on your yoga mat because yoga isn't part of a "fix yourself" paradigm but rather a "know yourself" paradigm. And then it journeys with you off your yoga mat because the same is true of body acceptance. While you may experience fleeting moments of epiphany or joyous love for your body, the day-to-day experience of body acceptance is much quieter than that — and ultimately more powerful because it becomes part of your everyday life.
presence
get curious
challenge
affirm
And that's what we're about here at Curvy Yoga — actual life, where things rarely go as planned, sometimes you skip your yoga practice, and other times you're judgmental about your body.
I'm here to tell you that none of those things are failures.
They're called being human — because life is ebb and flow.
Both yoga and body acceptance are about making space for your body to speak. And what I've found through my own practice (that totally shocked me!) is that the more space I make to meet myself and my body where they are in the moment, the easier and more joyful it becomes to take care of myself in lasting, sustainable ways.
Because neither yoga nor body acceptance are end goals in and of themselves.
They're vehicles to living your life.
What You'll Find Here
Right here on this site you can find out what we're up to in the world — you can search for a local teacher in your area (or learn how to become one!); peruse our blog and podcast; check out our upcoming events; and learn more about our book, DVDs, and more. CurvyYoga.com is the information side of our online world.
Curvy Yoga Studio is the action side of our online world, where we support you in creating a sustainable practice that works for your actual life. Our free membership provides encouragement for your existing practice through a variety of different resources, including oodles of curvy practice tips (goodbye, death-by-boob-smush!) and samples of our practice videos, guidebooks and more. And with our Studio membership, you get a made-for-you practice that starts with access to our 100+ practice videos created for bodies of all shapes and sizes, from five to sixty minutes in length, with new practices added each month by member request. It's the body-affirming yoga studio you always wished was around the corner — now in your living room.
Curvy Yoga Practice is the technology and foundation of my well-lived life — and well-loved body. I can't wait to share it with you and see what it does in your life! Let's get started, shall we?
Check out our resources and get free practice videos: Join Curvy Yoga!