In today's episode of Love, Curvy Yoga, we interview Tanya Geisler – who helps everyone find their recipe for their personal brand of joy.
Inside this episode, you'll hear us talk more about:
How thinking back onto childhood and relationship with her body molded her later in life.
Why we are of the thinking that we don't deserve success
How we recognize if we are in the Imposter Complex
How to step into your Starring Role
And, so much more!
---
Meet Our Guest, Tanya Geisler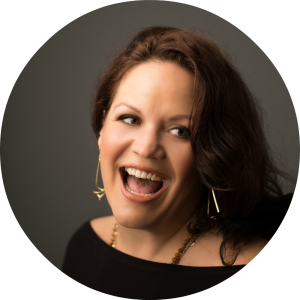 Tanya Geisler is Leadership Coach (CPCC, ACC) with a penchant for clarity and an abhorrence of the Impostor Complex. She's coached hundreds of people who were ready to step into the starring roles of their lives. She wrote The 12 Lies of the Impostor Complex (and One Truth), The Joy Pages, created Board of Your Life and the transformational 12-week Step into Your Starring Role program, is a blogger for the wildly popular The Daily Love, has served as contributor and was featured in Canadian Living, and is an in-demand TEDx speaker who talks with great passion about the Impostor Complex, personal leadership, on all things joy, meaning and purpose (just try to stop her).
It is her indomitable belief that if everyone knew their own unique recipe for their personal brand of joy, they'd hold the key to shining in their life, in their work and in their life's work. (It really does change everything.)

Connect with Tanya Geisler in the following places:
---
Dive In to the Episode Now