Hooray for this month's wonderful Curvy Seven interview! To see the rest of the interviews in this series, please click here.
1. What's your yoga origin story?
When I was in graduate school, I developed carpal tunnel-like symptoms and lived with chronic discomfort in my left arm and hand for two years.  I sought healing from both conventional and alternative practitioners.  My massage therapist kept recommending yoga, telling me that a lot of the "stuff" I had in my body would go away with a consistent yoga practice.  I eventually made my way to a yoga class one Tuesday night, and I went every week for two years.
The more I practiced, the more I wanted to practice, so I started doing yoga at home. As my teacher said in class the other day, "you know your practice is strengthening when not doing it is harder than doing it." And as my practice deepened, my relationship with my body changed and I started to see how yoga could offer relief to those who struggle with poor body image, low self-esteem, and disordered eating.  So in 2002, I completed my teacher training at the Kripalu Center for Yoga and Health and now share these gifts with those wanting to adopt a non-diet, health at every size approach to food and weight.
2. What pose do you love? Loathe?
Right now, I am drawn to poses that have a feeling of surrendering, of letting go.  So I especially like pranamasana (pose of gratitude) and anjaneyasana with arms down by the sides, hands in a mudra, heart open and gaze turned up.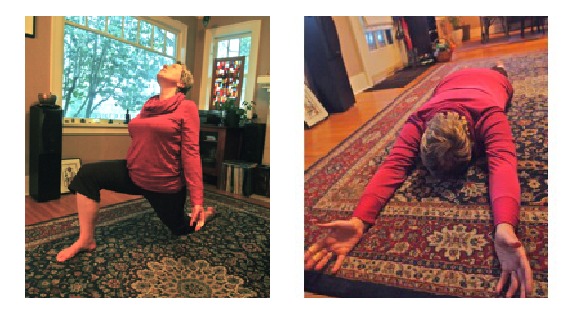 My least favorite pose has always been and probably always will be upavistha konasana (seated wide legged straddle).  It's uncomfortable for me to hold because my hips just don't want to hinge forward.  I have seen improvement over the years, but just slightly.  I rarely do it in my home practice (no surprise there!) and really have to be conscious of my comparing mind when we do it in class.  It looks so delicious to just be able to lie out flat on the floor like that. But I'm not made that way and I've accepted it. The best way for me to sit in the pose is with a cushion or blanket under my hips and a bolster in front for me for support.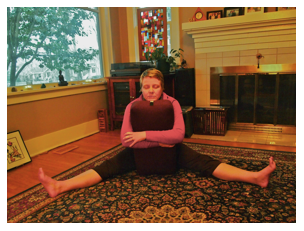 3. What advice would you share with other curvy yogis?
Yoga is for every body.  There is a style and teacher for every one.  It might take time to find the right fit, but if you feel drawn to the practice, keep looking.  Avoid going to classes at the gym because they are fitness oriented and may even encourage the ego to get very involved in your practice, which often leads to injury.
Yoga offers benefits on and off the mat.  In addition to improving strength and flexibility, stimulating relaxation and relieving stress, yoga promotes mindfulness and self-acceptance by cultivating the voice of a witness.  This witness consciousness allows for self-observation without judgment. And from this kind of open and inclusive acceptance, our desire to take action, such as making new behavioral choices, is included and welcomed. Acceptance can be seen as the grease that frees up resistance to change. As Vilma Zaleskaite said, "your body is a door, not a barrier; it opens, you open."
4. Who's your favorite curvy icon?
Lena Dunham! I love her show Girls. It is about damn time we see an average woman's body on TV, and she seems to fling off her clothes as if the world cannot wait to see her naked.   The opening shot in the second season's premier is of her lying down in bed, on her side, with her belly hanging out.  In the next episode, you see her naked from behind in a thong.  A normal sized girl's butt in a thong! On TV!  Are you kidding me? She is awesome!
When asked how she is different from skinny actresses, she is quoted as saying:
 "Meeting actresses who such a big part of their job is about what they look like, I feel so lucky to be freed from that prison. I ate cake for breakfast on the day of the Emmys, my workout didn't require Spanx, and I still feel like I looked better than people expected me to. It was amazing. I could feel the envy of every woman in the Sunset Tower."
In my favorite episode from the first season, she has a fight with her boyfriend and throws a hurtful comment at him, and he says, "Well maybe you should lose like 14 pounds," to which she replies, "You know I decided a few years ago that my life was going to be about more important things." When have you EVER heard a woman say this in real life, let alone on TV?!  The fact that more women don't think this way in our culture is feminism's "one true failure," as Cheryl Strayed said in her wonderful book Tiny Beautiful Things.  Cheryl goes on to write,
"We claimed the agency, we granted ourselves the authority, we gathered the accolades, but we never stopped worrying about how our asses looked in our jeans.  There are a lot of reasons for this, a whole bunch of Big Sexist Things We Can Rightfully Blame.  But ultimately, like anything, the change is up to us."
And Lena Dunham is taking on the change in daringly brave ways.  And she is winning awards for doing so.
5. What's your favorite yoga resource?
Stephen Cope is the author of several books about yoga including Yoga and the Quest for the True Self, The Wisdom of Yoga: The Art of Extraordinary Living, and The Great Work of Your Life.  He teaches at the Kripalu Center for Yoga and Health in Lenox, Massachusetts.  If you haven't been, I highly recommend going.  It is an amazing healing place and the Kripalu philosophy to yoga on and off the mat has profoundly changed my life.  I try to go back once a year for a retreat.
6. What quote inspires you?
Wow, you want me to pick just one?!  I am a collector of quotes so this is extremely hard for me.  This one stands out as an all-time favorite…
You can search throughout the entire universe for someone who is more deserving of your love and affection than you are yourself, and that person is not to be found anywhere. You yourself, as much as anybody in the entire universe deserve your love and affection. – Buddha
7. Wild card: anything else you'd like to share?
Another favorite quote!  Is that cheating?  😉
Can you imagine what it would be like to become aware of an omnipresent ocean of wild divine love that has always been a secret to you in the same way the ocean is invisible to a fish? -Author Unknown
_____________________________________________________________________________________________
Dana Sturtevant is a registered dietitian, certified yoga teacher, and self-proclaimed foodie.  Her passion is helping people explore how an enjoyable relationship with food happens naturally when the focus is more on nurturing the body and mind and less on dieting.  Dana especially enjoys blogging about mindfulness, yoga, Intuitive Eating, Health at Every Size®, and the Slow Food Movement.  She has a private practice, Be Nourished, in Portland, OR.  For more information, visit www.benourished.org.