So excited for you to meet this month's yogi! To see everyone who has been interviewed, please click here.
1. What's your yoga origin story?         
I used to have an "exclusive" view of yoga. I would see yoga in media and health publications and only see one consistent type of person: slim, Caucasian, wealthy females. My concept of yoga was that it was something that rich, affluent, slender women did for socializing and relaxing. I never, ever imagined myself doing yoga.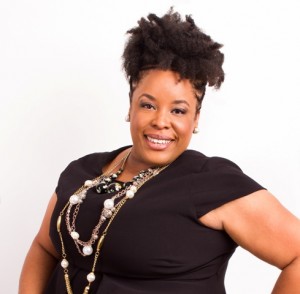 However, about two years ago I was introduced to the Curvy Yoga website by my life coach, Akilah Richards. She knew that I was beginning to embrace a holistically healthy lifestyle and wanted to provide me with body positive resources to assist in my evolution. When I went to the website I was so astonished to see all types of body shapes practicing yoga.  It was even more surprising to see Anna Guest-Jelley, a curvy woman, as a yoga teacher!
After visiting the site and learning more about Curvy Yoga I was CONVINCED that I could do it, too! My passion for yoga was ignited, and I indulged my curiosity for learning more by researching and reading about all the benefits that yoga has to offer.  The more I searched to discover yoga, the more truth and empowerment I discovered.  I came to understand the origins of yoga and just how diverse it actually is across the globe.  When I became educated about the spirituality and healing of yoga, I knew that I had to incorporate it into my own holistic living.
By the time I went to my first yoga class, I was so well informed and empowered that I felt confident in my curvy body, even though I was the only curvy woman in the class! I have since then become an advocate for helping others understand that yoga is a practice of diversity.  It has no physical, racial, social, economic, or gender based boundaries. Yoga has the ability to unite and empower all people to have a healthy and loving relationship with their bodies and themselves.
2. What pose do you love?
I love "Child's Pose." it is so relaxing to me!
Loathe? I loathe  "Downward Dog" (ironically, I do like "Upward Facing Dog") because it tends to be very uncomfortable to me.
3. What advice would you share with other curvy yogis?       
Never compare your body, your strength, or your abilities to others when practicing yoga.  One of the beauties of yoga is allowing your own personal body journey to unfold as you evolve.  We each have something to learn about ourselves and our bodies as we take our own journeys with yoga.
4. Who's your favorite curvy icon?
My favorite curvy icon, for decades, has been Queen Latifah.  I have always seen such a confident, yet loving energy come from her.  I have not seen her give into the pressures that other icons feel to change their bodies or lose weight for acceptance.  She has embraced her body and beauty and achieved so many accomplishments just by being herself.
5. What's your favorite yoga resource?
Since I began my yoga journey with Curvy Yoga, it holds a special sentiment for me.  I was introduced to yoga there, and it feels like my yoga "home".  I truly love the way that Anna is so warm and authentic in her guidance.  I feel comfortable and embraced in that energy, making it easier for me to learn and evolve.
6. What quote inspires you?
"Yoga is the journey of the self, through the self, to the self." ~ Bhagavad Gita
7. Wild card: anything else you'd like to share?
I am truly thankful for the beautiful souls that I have attracted along my journey of body love and self-love.  Each connection enables me to be more educated, empowered, and encouraged along the way. A special "thank you" to Anna Guest-Jelley for inviting me to be a part of the "Curvy Seven" experience.  I am honored!
 ____________________________________________________________
Ivy LaArtista is the founder of See Body. Love Self.™ a holistic, body positive movement.  Known as The Body Relationship Coach™, she offers services to empower, educate, and encourage those who seek to embrace a healthy, loving relationship with body and self. By using the lessons learned in her own body journey, she educates others about how to live a body positive lifestyle. Connect with Ivy via Facebook, Twitter, Google+ and Pinterest.
Share the blog!!

Tweet: Check out The Curvy Seven with @seebodylovelife!! http://ctt.ec/y7M61+ via @CurvyYoga

Tweet: Read this feature of @seebodylovelife on @CurvyYoga! Check the Curvy Seven interview! http://ctt.ec/208L0+