Who doesn't love a good twist?  It just makes you want to start singing or dancing.
I've found some twists more accessible than others as a curvy yogi.
One common twist is Half Lord of the Fishes.  There are several modifications you can try here if it's not working for you: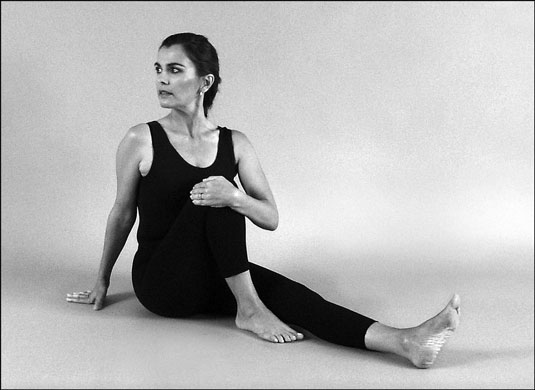 1. To accommodate bigger thighs, try not crossing the legs over.  Instead, try sitting cross-legged and then bending one knee with the foot planted on the floor.  Alternately, if you do cross the legs over, be sure to bring the whole leg with you.  In other words, if you're crossing right over left, you could try picking up the meat of the right inner thigh as you cross, which will help the leg cross further.
2. To accommodate belly and/or breasts, try bringing your left hand to your right knee and your right hand to the ground.
3. Regardless of if you do modification 2 or not, you can move the belly flesh to help twist a little further.  From position 1, bring your hands to your lower belly on whatever side you're twisting toward (the right in this example).  Use your hands to tuck your belly skin down and in toward your pelvis.  This will give you a little more freedom in the twist.
I was talking with a friend yesterday about how one of the cool things about yoga is that it's about coming to our own edge.  Each of us has a different edge, but the experience of playing that edge is similar.  So someone's edge might be in Half Lord of the Fishes, while another person's is in one of the modifications above, while another's is in Pasasana.  As long as we're challenging ourselves and finding that edge, which is always changing, then we're doing our practice.
Now let's twist again…like we did last summer…