Yoga and body acceptance are for you.
Even if you've tried before and it didn't work out, you don't have time, and you secretly suspect everyone else can do this but you.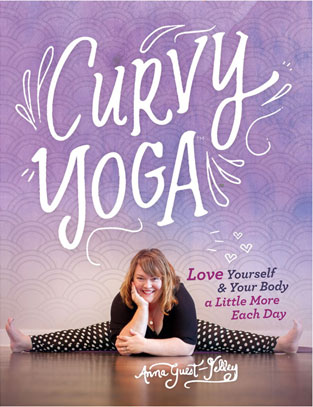 When I first started practicing yoga in the late 90s, I always tried to hide in the back corner of the room. I thought if I could just blend into the background then no one would notice how my body wasn't quite like the others in the room. I figured I'd truly "get" yoga once I finally lost the weight I wanted to lose. And why wouldn't I think that? Pretty much all messages everywhere confirmed what I was thinking, so nothing intervened to stop that train of thought . . . for ten whole years. Then one day, having realized I'd been on 65 diets in my life and that the 66th clearly wasn't what I needed, I set about to discover how to have a different relationship with my body. And then, after a decade of thinking my "problem" in yoga was my body, I had the one thought that changed everything:
"What if my body isn't the problem?"
Have you ever thought something like:
I can't do yoga because I can't touch my toes or I can't accept my body because I don't like my body?
If so, I've got some good news for you:
you can absolutely do this. You're just trying to start at 75mph on the highway before you even get in your car. Moving more comfortably in your body and liking your body more are the reason to practice yoga and body acceptance, not prerequisites before you even begin. When you practice yoga in a way that works for you and connects you with your body, you unlock the door to both a regular yoga practice and a more positive relationship with your body.
"Tools you need to forge a more loving relationship with your body"
"Finally. A book that puts our culture's destructive body-shaming to rest and gives women the tools they need to forge a new, more loving relationship with their bodies." -Linda Sparrowe, former editor-in-chief of Yoga International and author of Yoga at Home: Inspiration for Creating Your Home Practice.
Why I wrote this
If you go to the yoga section of your book store, you're bound to find lots of options. And the same thing is true if you're looking for something to tell you that body acceptance is a good idea. But I'm a person who's obsessed with the how. As in, how am I actually going to create a regular yoga practice, or accept my body, and not just think it's a good idea and then move on with my life with nothing being different?
After founding Curvy Yoga in 2009, I've spent the years since then talking with thousands of people all around the world about just this question. I've delved deep into that conversation through teaching both students and teachers, and this book is the culmination of what I've learned — and exactly what I wish I could have put my hands on at the beginning of my own journey.
What you'll find inside
My story of not only yoga helping me accept my body, but how it helped me do so
A guide to Curvy Yoga Practice — the 4-step process I've spent the past few years developing that you can apply on and off your yoga mat to create a kinder relationship with your body
Pose options for curvy bodies that you can apply in any yoga class you take
Detailed curvy instruction and photos for common yoga poses
And so much more!
"This book is a transmission of something essential"
"I want every woman who has ever cursed her thighs, sucked in her stomach when she got out of bed naked in front of her partner, hated another woman for being thinner, or otherwise judged her body to read this book. Anna's stories will heal you. Her yoga suggestions will liberate you. This book is a transmission of something essential that so many of us need. Please read it and then give copies to all your friends. I love this book!" -Jennifer Louden, author of The Woman's Comfort Book and The Life Organizer.
By connecting you more with your body exactly as it is today, yoga can help you feel better both in and about your body.
Book Bonuses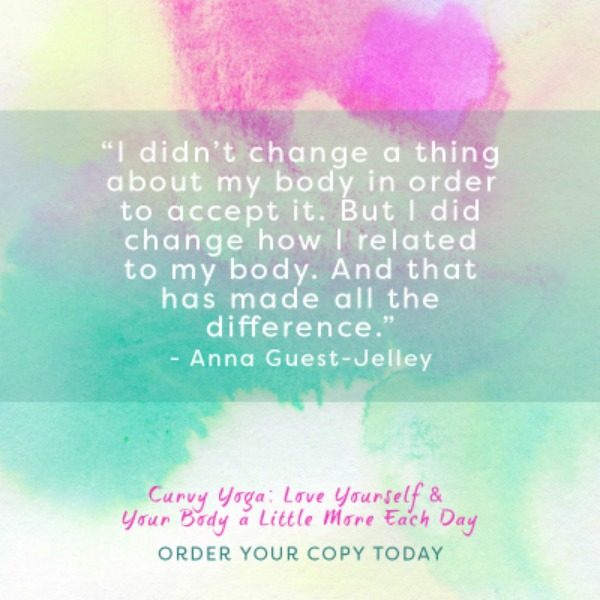 Do you ever read a book, get really excited about the ideas, commit to put them into practice, and then . . . forget about them a week later?
If so, you're not the only one! I'm definitely right there with you.
I don't want to leave you hanging after you read this book, so I've got you covered with some great bonuses:
Audios of all the practices in the book so you can practice along anytime you choose
Pretty printables of our Curvy Loving-Kindness Meditation and our new Curvy Yoga Practice reminders
How to get your bonuses
Want in? Anyone around the world is eligible for the them! Here's how:
Order a copy of Curvy Yoga: Love Your Body & Yourself a Little More Each Day wherever books are sold (Note: If the book is out of stock when you try to order, just go ahead and purchase so you can take advantage of the bonuses. It will be delivered as soon as it's back in!)
Email us your receipt number (below)
Once we get your receipt number, we'll send you an email confirming, with your bonuses included!
Information + action = change. Put two and two together to create the relationship with your body and life that you want.
Purchased the Book? Great! Enter Your Purchase Details Below to Claim Your Bonuses