Description
Want to try Curvy Yoga, but would rather check it out at home?
Love Curvy Yoga videos, but don't have a computer in your practice space?
Wish you could practice Curvy Yoga with me, but live too far away?
If your answer to any (or all) of these questions is YES! I have some curvetastic news to share with you!
Now you can practice Curvy Yoga with me in my home studio anytime you like. All you need is a DVD player and space to roll out your mat and you're ready to go!
---
Open Your Heart to Yourself: Curvy Yoga 2-Disc DVD Set
---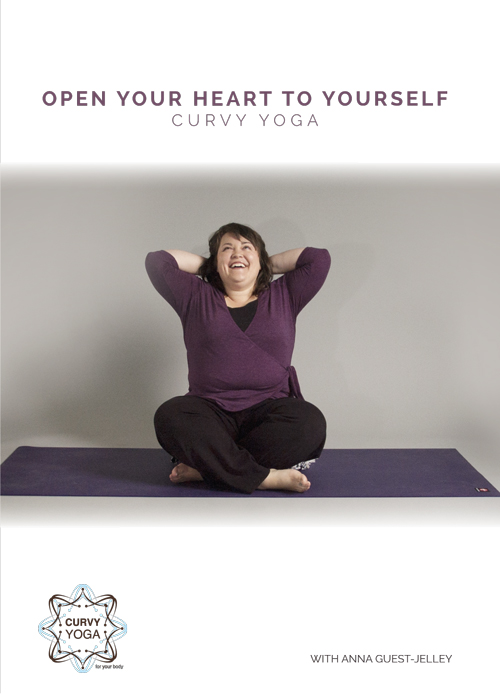 Featuring some of the most popular sequences from my Curvy Monthly program, this 2-disc set offers more than 2 full hours of Curvy Yoga that you can practice whenever, wherever you are!
Whether you're a yoga beginner or a well-trained yogi, these classes are ideal for giving yourself the self-care and self-love that comes from honoring your body, respecting your practice and rocking your curves!
---
With the Open Your Heart to Yourself 2-Disc Set You Get:
---
3 Incredible Curvy-Friendly, Body-Positive Yoga Practices
A Personal Yoga Routine That Happens On Your Terms
Loads of Straight Up Life Affirmin', Curve-Appreciatin' Inspiration
And so much more!
What's best is that you can experience it all anytime, anywhere you choose!
The Open Your Heart to Yourself DVDs feature 3 different practices at 3 different lengths so you have the option of doing as much or as little Curvy Yoga as you want.
---
The Practices Included Are:
---
Self-Love Restorative (20 Minutes)
The Self-Love Restorative practice is designed to connect you quickly with your body and breath before transitioning into 2 longer-held restorative poses. The practice ends with a curvy loving-kindness meditation.
Open Your Heart to Yourself (40 Minutes) 
This 40-minute practice was crafted to open your heart from the outside in and the inside out. It includes both supported and standing poses to open from all sides.
Backbends You Don't Have to Flip Over (60 Minutes) 
If the word "backbends" has always scared the bleep out of you, this practice is just what you need. Prepare your body (and mind) for a whole new world of poses that you really CAN do.
Order your DVD set today and spark your Curvy Yoga practice at-home or on the road…on your terms.
Grab your copy (and one for a friend!) for only $22 (plus $7 shipping — internationally!). For about the price of one drop-in yoga class, you can practice with me anywhere around the world, as many times as you want!
DVDs are created on demand (isn't technology amazing?!). Orders can take 3-5 days to be processed then shipped.