In today's episode of Love, Curvy Yoga, we interview Flora Bowley – a creative and inspirational woman who is doing some really, really amazing things in the world.
Inside this episode, you'll hear us talk more about:
Flora's unique painting practice, being brave and listening to your intuition.
How her ten years of yoga teaching has helped what she's doing now and the lessons she's carried over from her practice.
Why body and self-acceptance is so important and how self-love, compassion and worthiness show up in our lives.
The primary benefit of putting yourself into the space of learning something new as an adult and how it can loosen up some of our usual patterns.
And, so much more!
---
Meet Our Guest, Flora Bowley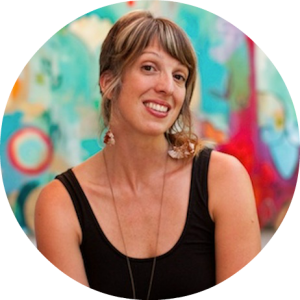 Flora Bowley is an internationally celebrated painter, teacher, author, and inspirationalist. Her transformational approach to the creative process ignites brave intuitive expression and honors the connection between body, mind and spirit. Blending over twenty years of professional painting experience with her background as a yoga instructor, massage therapist and lifelong truth seeker, Flora's art and offerings are infused with a deep sense of soul, passion and generosity.
Flora's vibrant collection of paintings can be found in galleries and printed on unique product lines sold worldwide. Her popular book, Brave Intuitive Painting (Quarry Books, 2012), is an inspiring guidebook enjoyed by both novice and seasoned painters, and has sold over 30,000 copies. Flora spends her time painting, teaching, writing and dreaming among a vibrant community of artists in Portland, OR. To see Flora's art, read her blog and find out more about her book, online courses and retreats, please visit www.florabowley.com.
Connect with Flora Bowley in the following places:
---
Dive In to the Episode Now